"I am skeptical to leave my pet with just anyone, especially at a boarding kennel. Without established trust, I find it difficult to leave my pet with unfamiliar people."
Since being established in 1987, the owners and staff at Law's Country Kennel have taken care of tens of thousands of family pets, and are knowledgeable with all types of breeds. Extra attention early-on, calling your pet by name and giving treats helps to establish trust. And frequent interaction during the daily routine will allow the staff to observe any particular needs your pet might have.
The staff at Law's Country Kennel in Roanoke, Indiana, continues to improve on providing authentic relationships with its customers and loving relationships with their pets. By understanding the importance of quality care that our customers and their pets demand, Law's Country Kennel has, and always will, be northeast Indiana's finest and most trusted pet care facility!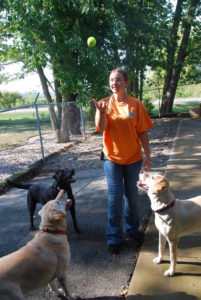 "I feel terrible for leaving my pet at the kennel. I desperately miss him and am worried he'll be lonely and feel abandoned."
This is one concern we hear a lot, especially from our "newbies." We always recommend providing your pet with some belongings from home, including bedding or a couple of favorite toys. Anything with the smell of home on it will help. We can also feed your pet according to his or her feeding routine from home. You may bring with you your own food and any special treats.
At Law's, routine, compassionate staff and adjustment services are key. Information on how your pet socialized with other boarders, our staff and the day to day operations will be available at pick up. Please know you may call at any time to check in on your pet. We will be more than happy to provide you with a progress report.