"I don't like my pet being confined for a long time, and only getting out once or twice a day."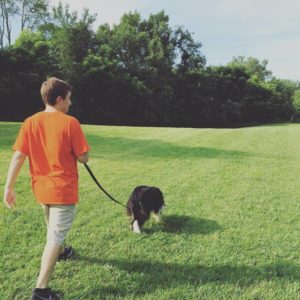 Unlike smaller crates at other boarding facilities and vet clinics, our kennel runs provide plenty of room for your pet.  Each has its own indoor and outdoor space with access to an outdoor run when weather permits.
We also offer "Yard Play" and "Nature Walks". Both these options are highly recommended for adequate and timely adjustment to boarding, especially during longer stays. Our "Yard Play" provides each boarder with a 10- to 15-minute release or recess into our play area.  It offers a chance for your dog to socialize with small groups of compatible pets, to interact and play with our employees, to familiarize themselves with the rest of the facility, and is another location for him or her to go potty.
We also offer "Nature Walks". Each leashed walk consists of a 10- to 15-minute hike with a staff member away from the facility, through the woods and around our three-acre lake. Pets are either alone with a staff member or with another compatible pet. The walk includes a stop-and-pet moment set aside on a trail bench.
"My pet is either fearful or aggressive toward other dogs.  How do you address this?"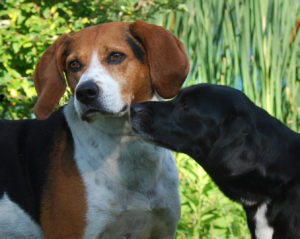 At home your pet may rarely be in contact with other dogs and as a result may lack confidence when kenneling.  Having its own indoor and outdoor kennel space keeps your pet and other boarders comfortable and safe by preventing direct contact with other boarders. We can also administer solo yard play and nature walk sessions with your pet if you are adamant about avoiding contact with other pets.
For customers that would like to attempt to have their pet interact with others, we can attempt group interaction by means of a progression.  Attendants may have to spend some personal time interacting with your pet before attempting to pair him or her with either one pet or a small group of compatible pets.  Our attendants coordinate and closely monitor small groups of dogs that are similar in size, demeanor and breed.