Canine Country
Law's Country Kennel offers its canine boarders their own indoor and outdoor run. The inside runs are spacious enough for the largest of breeds and contain elevated pallets for your pet to lie upon. The outside runs are larger and covered to protect your pet from inclement weather. Every run is bright and clean. The facility is heated in winter and air-conditioned in summer. If you are a new customer, take advantage of a free day of boarding.
Additional Efforts
Law's Country Kennel addresses your concerns and provides quality care by
providing each pet with its own spacious indoor and outdoor kennel.
permitting your pet to have his/her own bedding, one or two toys, own food and treats. (Please provide beds or blankets that do not exceed 2 ½ feet X 3 feet and are easily washed.)
hiring and retaining committed and accountable staff.
creating routine for consistent care and suitable adjustment of your pet.
playing music softly throughout the facility to help create a more relaxed environment.
giving necessary amounts of personal attention to assist with your pet's adjustment.
offering additional outdoor social activities such as "Yard Play" and "Nature Walks" with compatible boarders.
Feline Flat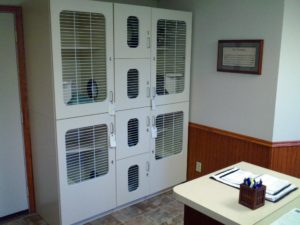 Law's Country Kennel provides accommodating cat condos for feline boarders.  Each has available lofts for an elevated view and separate areas or spaces that provide privacy. We have condos that can offer a view of daily office activities, and others with a window view to the outside horse pastures and bird feeders.
Litter boxes, bedding and water are cleaned, straightened and checked twice a day, while a feeding schedule of our food or food from home is kept close to what is administered at home. Toys, bedding and blankets are also recommended to help with adjustment. Additional handling and care for longer-term boarders can be provided upon request at no additional charge.
Security
Law's Country Kennel addresses security concerns for your pet by
providing 24-hour surveillance from the family-owned property.
offering indoor and outdoor covered runs.
housing all boarders inside at night.
securing each kennel space.
adding a security fence around each of the buildings and their outdoor runs.
integrating with the facility a 20kw generator system and ample fuel reserves to help staff care for boarders and remain fully operational during temporary or prolonged power outages.
Rates
Our rates are comparable to other great boarding facilities. Boarding fees are paid upon pickup or when your pet is delivered home.  We have discounted rates for customers with two or more pets and a "Kennel Membership" available for frequent travelers. "The Kennel Club" requires an annual fee that can provide customers with savings on boarding rates and additional services. For more information on rates and our membership program, please call.
We accept cash, personal checks, and VISA, MasterCard, and Discover. We impose a nominal merchant surcharge for the use of credit cards with invoices over $50.
Hours of Operation
Monday through Friday: 8am – 11am & 3pm – 6pm
Saturday: 8am – 11am
Sunday: 4pm – 6pm
Sorry, our office is closed on holidays.