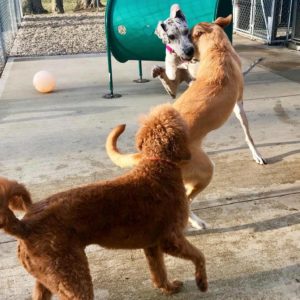 Additional Pet Services: Pet Yard Play at Law's Country Kennel
While staying at our kennel, take advantage of kenneling by socializing your pet. Our "Yard Play" option is a recess that includes 10 to 15 minutes of play time with small groups of dogs (three to five) in similar size and demeanor. It also allows for additional potty breaks, and an attendant is always present, monitoring proper play and providing personal attention to your dogs.
This is a great way for your dog(s) to make new friends and get a little exercise. Add this in to your next visit and put a smile on the face of your furry friend. All dogs love pet yard play!