"My pet is either fearful or aggressive toward other dogs.  How do you address this?"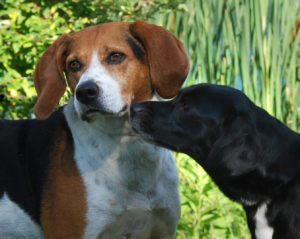 At home your pet may rarely be in contact with other dogs and as a result may lack confidence when kenneling.  Having its own indoor and outdoor kennel space keeps your pet and other boarders comfortable and safe by preventing direct contact with other boarders. We can also administer solo yard play and nature walk sessions with your pet if you are adamant about avoiding contact with other pets.
For customers that would like to attempt to have their pet interact with others, we can attempt group interaction by means of a progression. Attendants may have to spend some personal time interacting with your pet before attempting to pair him or her with either one pet or a small group of compatible pets.  Our attendants coordinate and closely monitor small groups of dogs that are similar in size, demeanor and breed.