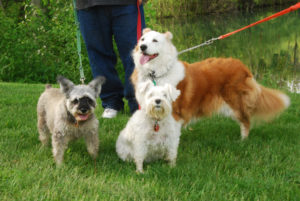 Law's Country Kennel provides canine boarders with iVet dry pet products.  The product line includes Canine Maintenance, Puppy, Reduced Fat and Senior.  The iVet Healthy Gourmet Canine Formulas contain no chicken or poultry byproducts, providing better digestibility, no allergy-causing wheat formula and no protein substitutes such as soybeans.  The iVet Healthy Gourmet Formulas utilize chicken fat of the same quality grade used in human foods. This helps give the food the great taste dogs love and provides the essential fatty acids that are a necessary component of canine nutrition. In addition, iVet has guaranteed high levels of Omega-6 and Omega-3 fatty acids for excellent skin and hair coat conditions.
Feeding more familiar food from home, any prescription food or other special diets can be administered upon request at no additional charge.
Pet Medicating
If your pet requires medication, including injections, we can administer them at no additional cost.  Also, it is policy of Law's Country Kennel to deny the use of tranquilizers during your pet's stay unless authorized and prescribed by your veterinarian.
Pet Medical Requirements
For the protection of all boarded animals, Law's Country Kennel requires proof of your pet's vaccination records.  Be sure to ask your vet which shots are necessary, and before boarding, either fax or email us a copy of current shot records. You may also present them upon arrival.
Pet Canine Needs
*DHPP: distemper, hepatitis, parainfluenza, parvovirus (1-year or 3-year vaccine)
*Rabies (1-year or 3-year vaccine)
*Bordatella: helps the prevention of kennel cough (1-year or 6-month vaccine)
**CIV: Canine Influenza
*Required
**Highly Recommended
Pet Feline Needs
*Feline Distemper, Calici, Rhinotracheitis (yearly vaccines)
*Rabies (1-year or 3-year vaccine)
*Required
**Highly Recommended