Law's Country Kennel provides a professional grooming service for your pets. Located in the Fort Wayne area, we groom a wide range of dogs such as Shihtzus, Lhaso Apsos, Poodles, Schnauzers, Cocker Spaniels, and others both large and small. Specialized cuts for your pet can be serviced either by appointment or during a stay.
Our kennel's modern equipment and the quality products used by our experienced, certified pet groomers ensure quality grooming in a timely manner. Our pet groomers focus on relationships with each pet, allowing them to be more comfortable, thereby improving table training and resulting in an improved cut. Contact us today to schedule an appointment.
We do ask that owners regularly care for their longer-coated pets by frequently brushing coats and regularly scheduling grooming appointments.
Pet Grooming Services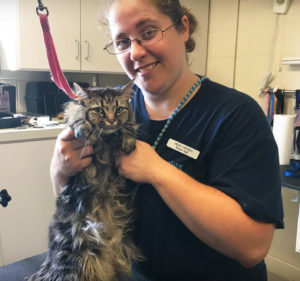 Full Service Pet Grooming: Our full-service, warm-water pet grooming include shampoo and conditioner, hair scissoring and/or clipping, nail trimming, ear cleaning, and anal glands (if necessary). After a full grooming service, your dog or cat will feel refreshed and look brand new!
Pet Shavedowns: This pet grooming service is offered to pets in the Fort Wayne area that are fully coated and require a complete removal of hair due to warm-weather demands or matted coat conditions. This is safe process and can be a painless option when trying to resolve matted hair issues in your pet.